The Task
The coronavirus pandemic hit universities hard. Not only did it disrupt teaching current students, but large-scale open days to attract new students were off the cards too. But life still went on, even when mass group gatherings were unsafe. So with that in mind, our long-term client the University of East Anglia (UEA), came to us to see if we could create a highly immersive virtual open day experience in lieu of their usual July event. They wanted to offer the same sorts of experiences as a prospective student would receive in real life: talks, campus tours, the chance to ask students questions and a glimpse at Norwich itself. And, of course, we delivered.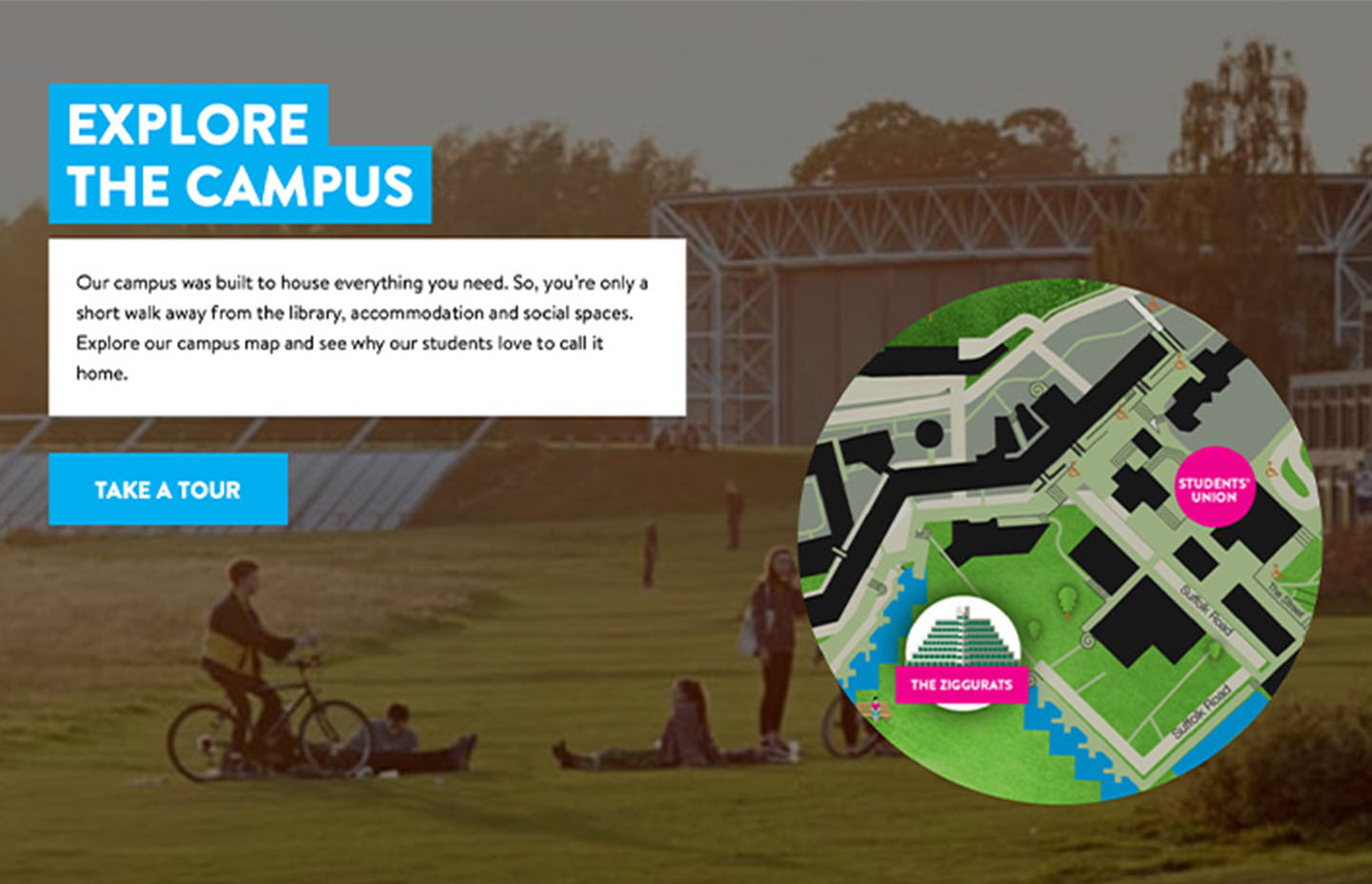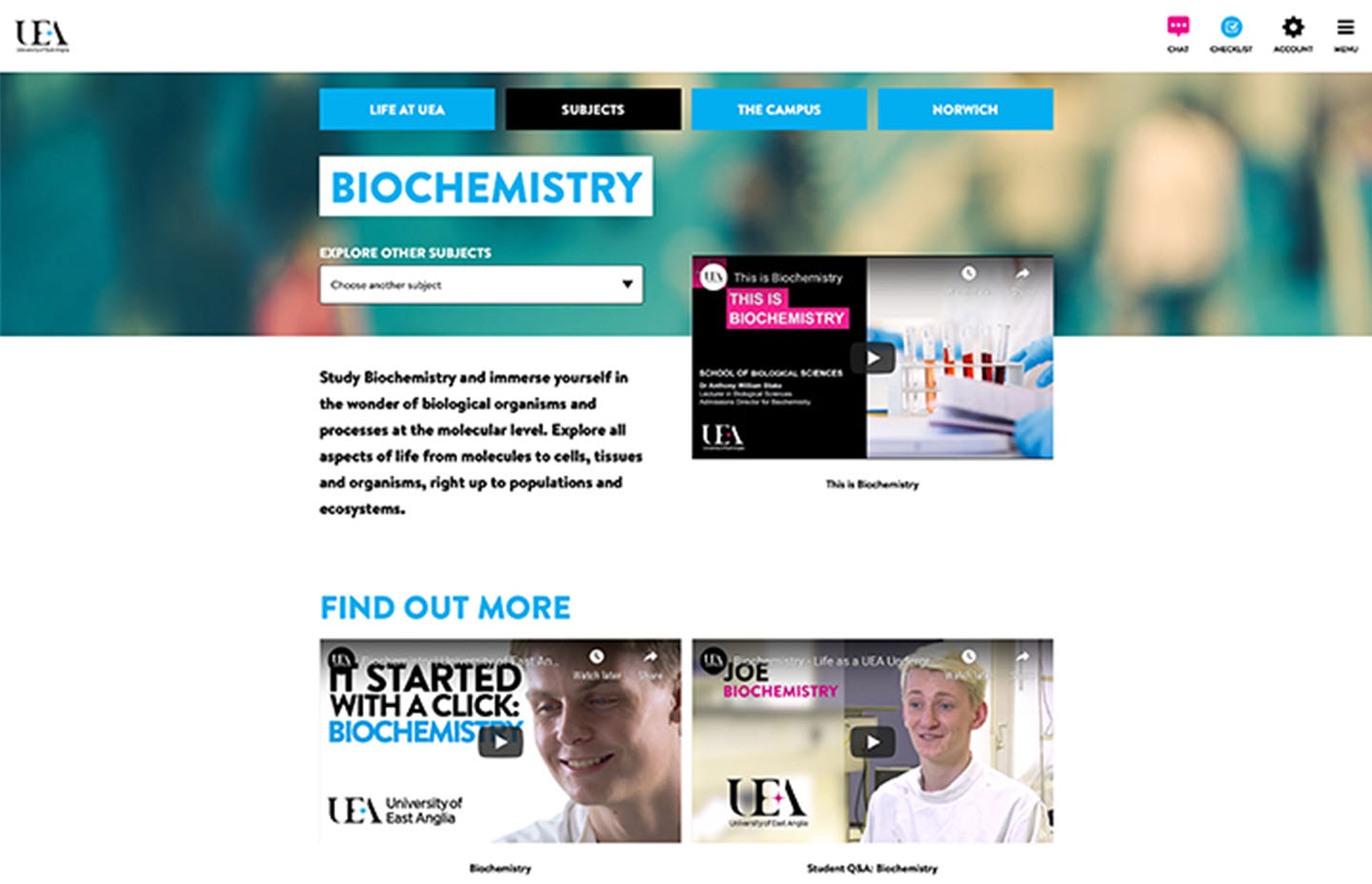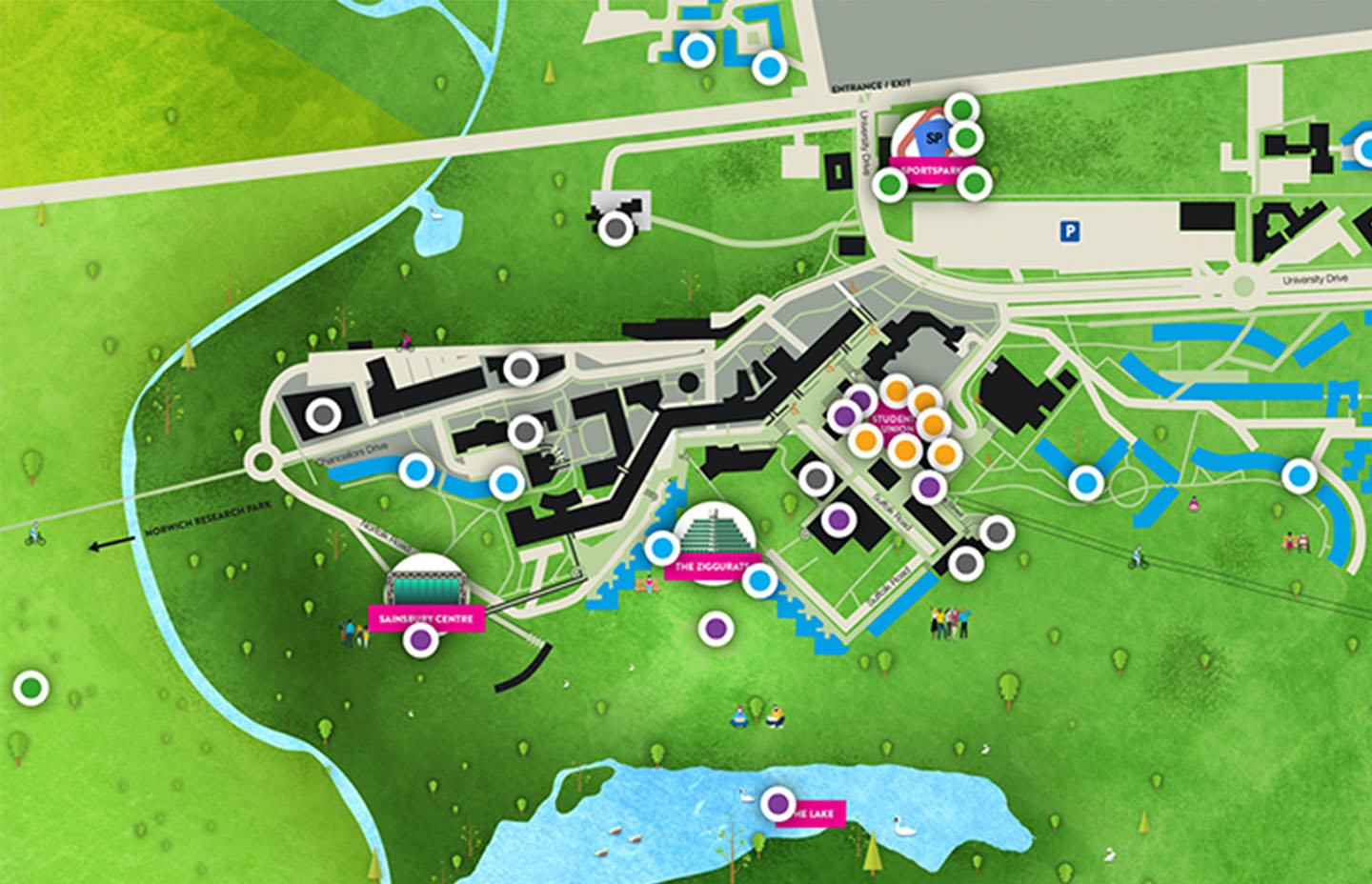 The Process
We devised and built a bespoke web platform that gave students a personalised virtual gateway into the UEA. The site was designed with four key technological features: subject and academic talks, virtual tours, live chat with student ambassadors and robust data capture to allow the UEA to monitor the success of the event and tailor future communications – all launching on Saturday 4th July 2020.
On 'arrival', the prospective student would input key information such as their name, email address and subject preference before entering the site, which automatically tailors the content to the information the user provided. But with so much content to explore, we needed a way to make sure users weren't overwhelmed and could easily find the information they wanted, as well as giving them a similar structure they would expect from a physical open day. We therefore split the platform into key sections: Life at UEA; subjects; the campus; and Norwich – with each section hosting a range of custom immersive content, from 360º video tours to talks from academics to explanatory 2D videos.
Every user was given a designated checklist at the start of the experience to help guide them through the full experience, from watching the introductory talk to virtually touring campus and accommodation, and finding out more about the subject they're interested in. We included around 50 different subjects, each with individual content, and 68 academic talks – which we edited lightly to give a standardised look and feel across the entire experience. What's more we integrated the UEA's current student live chat system into the platform so, on the day of the event itself, prospective students could ask UEA teaching staff and current students anything they wanted about the university.
After the event, the platform remained live so users could go back into it to explore again, if they wished. And whereas a normal open day would provide a set itinerary for a limited amount of time, the virtual open day enabled students to explore in any order they wanted, for however long they wanted, without the constraints of travel.
The outcome
Overall, it was a resounding success with an 131% increase on visitor numbers, including significant international engagements. And while the world returns to normal, the benefits of continuing to use a virtual open day platform like this in the future are clear to see.
Do you have a message you want to convey? A situation that needs simulating, or an audience that needs reaching? Whatever your challenge – we have the ideas, the experience, and the equipment to help.
What's your challenge?
Get in touch
Contact Us