THE TASK
Yamaha Music Europe GmbH's Clavinova range includes the finest digital pianos they make. And with the launch of a new product range, they wanted to showcase the design and capabilities of these beautiful instruments.
Usually, new products are given a big launch event in store but due to the challenges of the pandemic, Yamaha Music Europe GmbH were seeking alternative means to support and show their new Clavinovas. So they came to us for ideas and, together, we devised a plan for a comprehensive AR app that not only allows users to see what each instrument looks like for scale in their own homes, but demonstrates its capabilities while doubling up as future-proof sales tool for dealerships.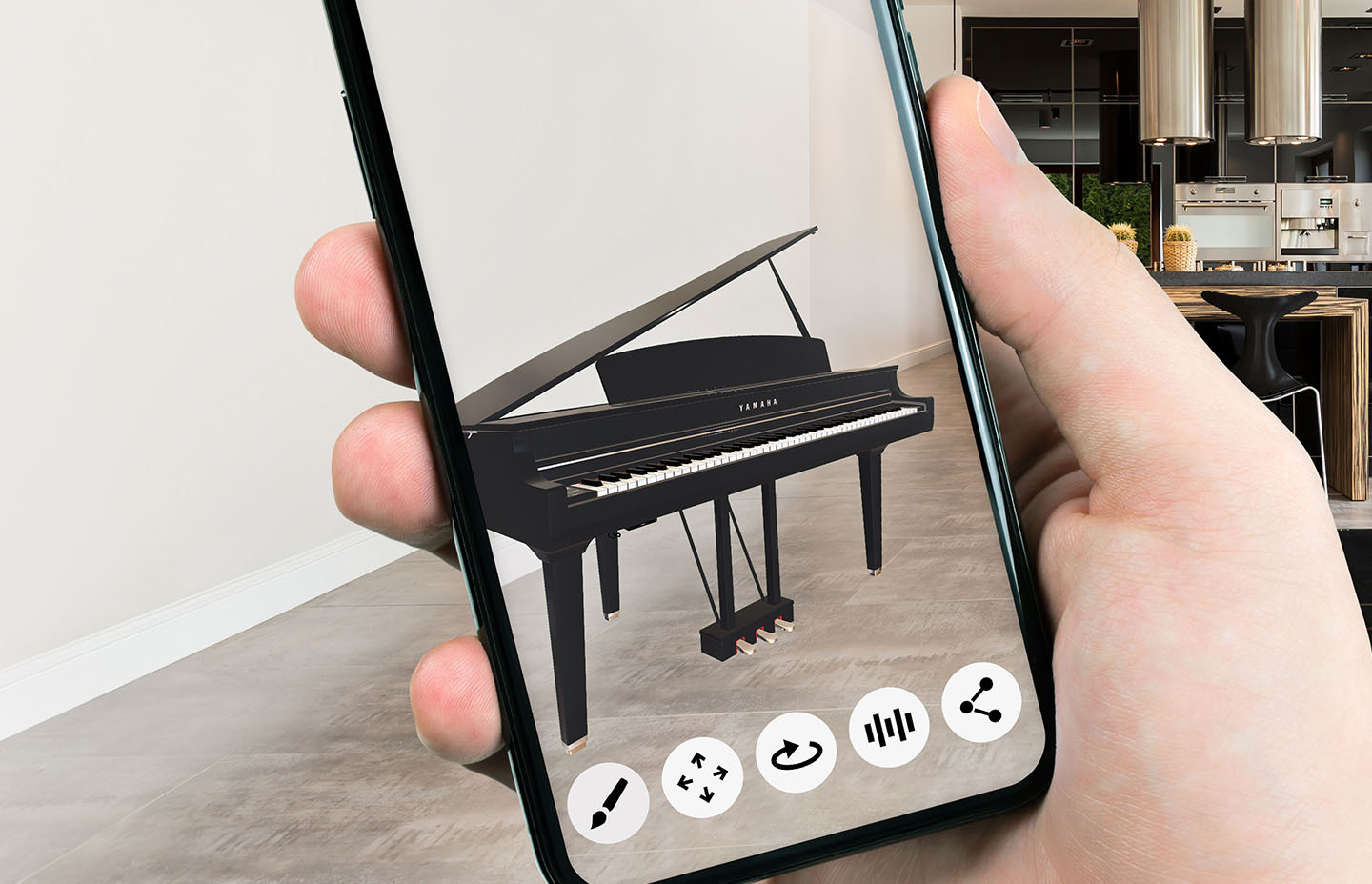 THE PROCESS
To create the assets for the app, we visited Yamaha Music Europe GmbH's workshop to photograph and measure every model to be included. We then modelled each Clavinova from scratch to its precise specifications and built in functionality to allow users to place, scale, position and move the AR piano in the space around them – enabling them to see it from all angles, in situ, in their own homes. On top of that, we added a range of functionality so users could really explore the piano, enabling them to listen to audio clips, change its colour, watch tutorials and overview videos, plus find their local dealer. To further augment excitement, we added social sharing capabilities – so users can take photos of the AR piano and send it to friends or share online. And because the sound of a piano is so important, we added binaural audio through headphones so users could really hear the depth and quality of sound.
With versions in both English and German, the Clavinova Space app can be updated through a bespoke CMS, enabling the Yamaha Music Europe GmbH team to update images, text and links independently. It's also linked up to anonymous analytics, enabling Yamaha Music Europe GmbH to understand how potential customers are using the app and responding to each model – giving them valuable insights for future marketing without collecting any personal data. And, with a version to download on the app store and a version for use on tablets in dealerships and retailers, Yamaha Music Europe GmbH has created a long-term tool to help customers explore all versions of the Clavinova piano from the palm of their hand.
THE OUTCOME
Launched in September 2021, the app has been downloaded nearly 3,500 times and received five-star feedback.
Showcasing a full range of new pianos, to scale, through the power of AR.
Do you have a message you want to convey? A situation that needs simulating, or an audience that needs reaching? Whatever your challenge – we have the ideas, the experience, and the equipment to help.
What's your challenge?
Get in touch
Contact Us