The Start
The University of East Anglia (UEA) has always been a progressive university. Like us, it calls Norwich its home. And for the last few years, we've been working together to create cutting-edge virtual experiences to support their student recruitment in a rapidly changing world. Using creative tech, we help the university reach out to prospective students across the globe and welcome them to the UEA community.
The partnership started back in 2019, when we transformed UEA's static UCAS fair stand into an AR-enabled explorative experience that allowed students to trigger a range of interactive content simply from text on the stand. Using the iPads already there to capture data, visitors could trigger everything from 360 videos, to 3D models and animations, to hidden Easter Egg content. This was soon followed by an AR app for the Outreach team – creating a fun and interactive engagement tool for younger audiences considering higher education.
But these apps were just the start. With the onset of the pandemic dramatically putting a halt to in-person open days, we were soon developing a virtual event platform that has since developed into a fully-fledged, multi-dimensional online tool that offers prospective and applicant students a digital gateway to UEA life.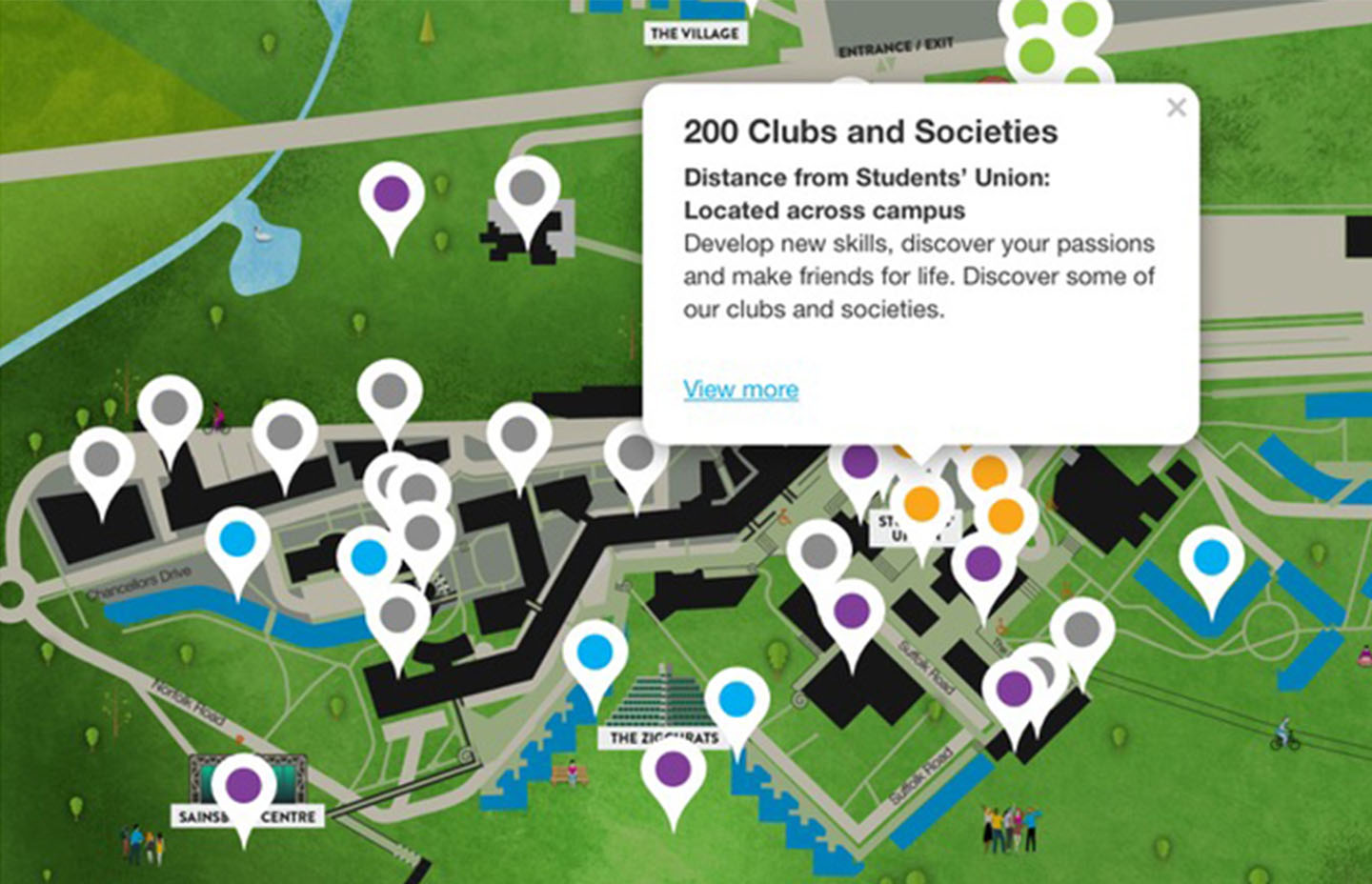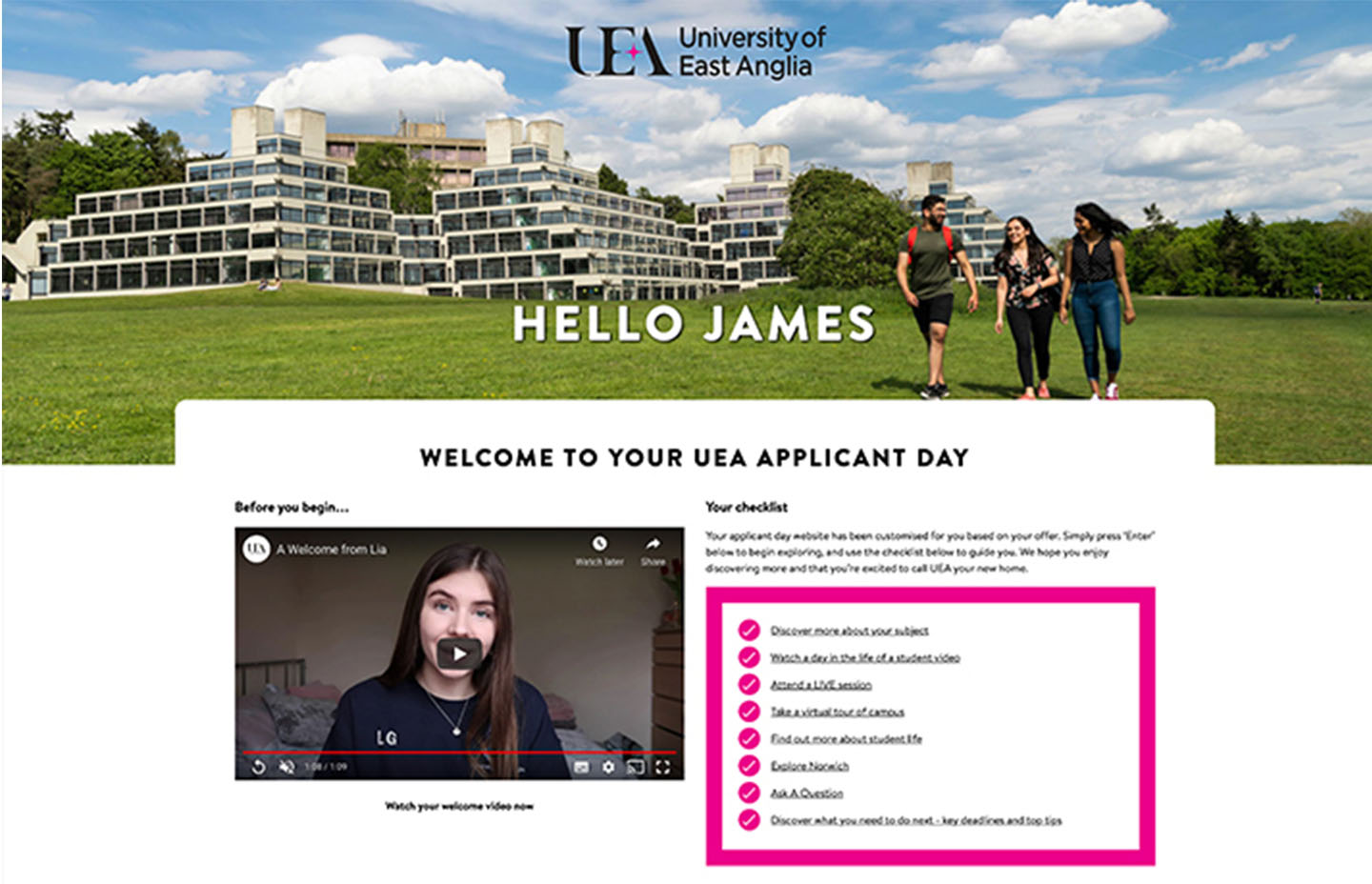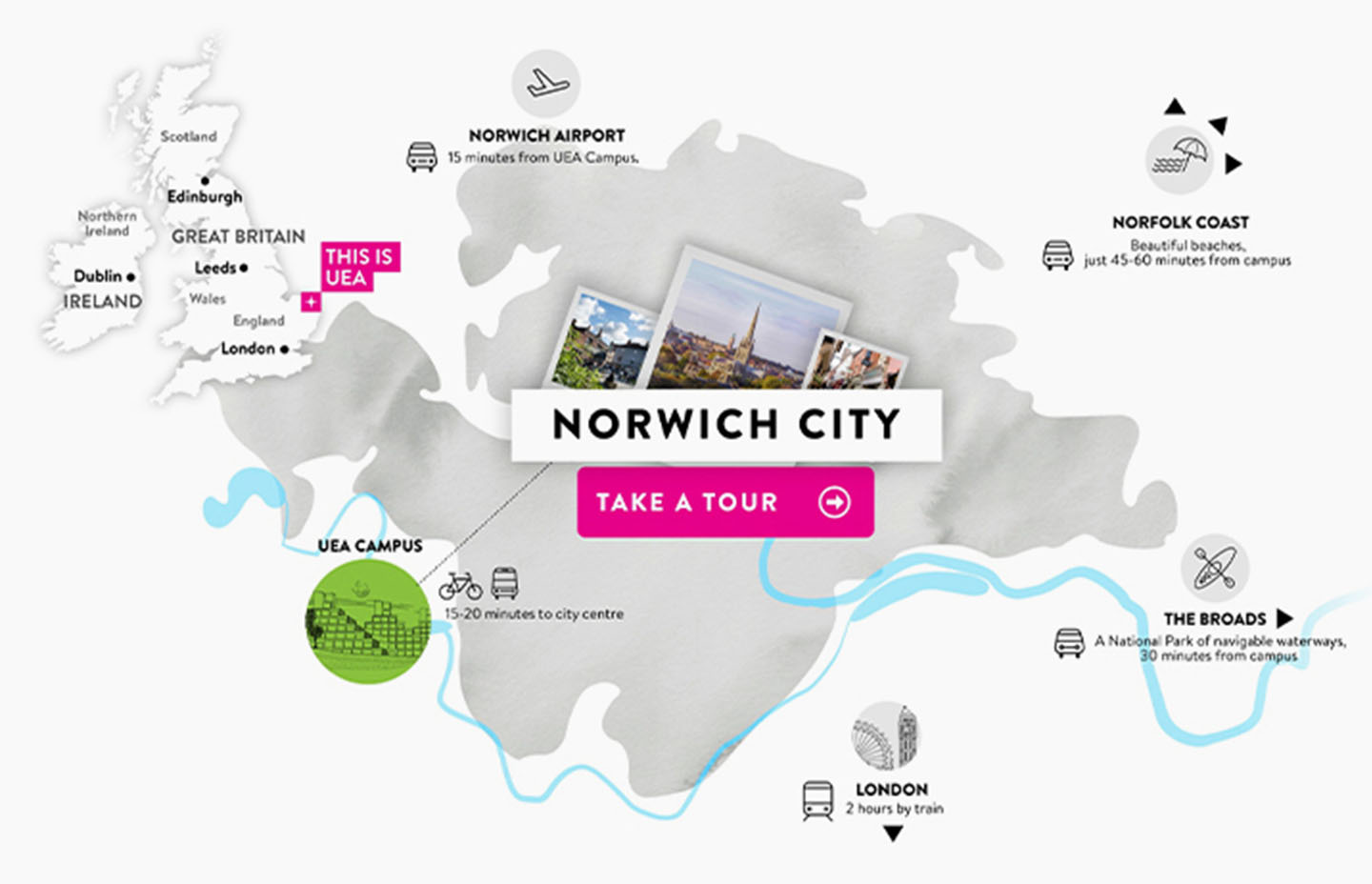 The Ideas
The first virtual open day platform was put together as an emergency due to covid restrictions – giving students all over the world a virtual window to the UEA at a time when travel was impossible. The results were spectacular – a 131% increase on visitor numbers, including significant international engagements. Plus the platform remained available after the event (unlike a physical open day) so students could keep returning to take a closer look at the range of content on offer. Its effectiveness got us all thinking: how could we explore and expand on this idea for different audiences within the recruitment journey?
So the following year, UEA asked us to create an immersive Applicant Day virtual platform that focussed on giving those students offered a place at UEA the opportunity to get closer to their potential future home. Then, in 2023, these temporary solutions were superseded when we launched a new and comprehensive virtual event platform designed to be an ongoing mainstay in UEA's plans for a hybrid approach to student recruitment. The new platform offers tailored experiences for undergraduates, postgraduates and undergraduate applicants – both nationally and internationally – for many years to come.
The Detail
Technology is nothing without good content. So as well as building the platform, we've created everything that sits within it from scratch, including:
360 videos of the university and surrounding areas
360 and 2D media to showcase student life, from studying to socialising
Virtual Matterport tours, demonstrating the range of facilities the UEA offers
Guided video tours of different accommodation types
50+ short films of academic talks for every subject
Quiz content to help students pick accommodation that best suits them
Drone footage of the campus to give students a bird's eye view
Plus, we devised a detailed and flexible CMS system to allow the UEA team to capture data and update the platform independently, keeping it relevant and insightful at all times. And in wider content support, we've created everything from promo videos to social teasers to high-quality 3D assets and fun TikTok filters to help the university keep engaging and educating their students.
Together with UEA, we've enabled a highly effective hybrid approach to student recruitment – devising a creative and comprehensive virtual platform to support real world events and help thousands of students decide their future. We can't wait for what's next.
Do you have a message you want to convey? A situation that needs simulating, or an audience that needs reaching? Whatever your challenge – we have the ideas, the experience, and the equipment to help.
What's your challenge?
Get in touch
Contact Us