The Task
The UEA Outreach team works with students from backgrounds that are typically underrepresented at university, as well as their influencers, to promote the benefits of higher education and to ensure that students can make an informed choice about their educational future. As part of their work, the Outreach team travel to schools in the Norfolk region and lead sessions with students of all ages – from primary schools to mature students – focussing on educating about future choices whilst dispelling myths that could otherwise put some students off.
To make their activities more engaging, the Outreach team wanted a tech tool they could use that would get young people excited about university, while still conveying a lot of important information. Crucially, it had to bring the idea of uni to life when the team were out and about at schools – without access to the campus facilities at UEA. So we designed and built an AR app that not only allows students to explore a 3D model representative of a university campus, but dive into seven different topics about university life.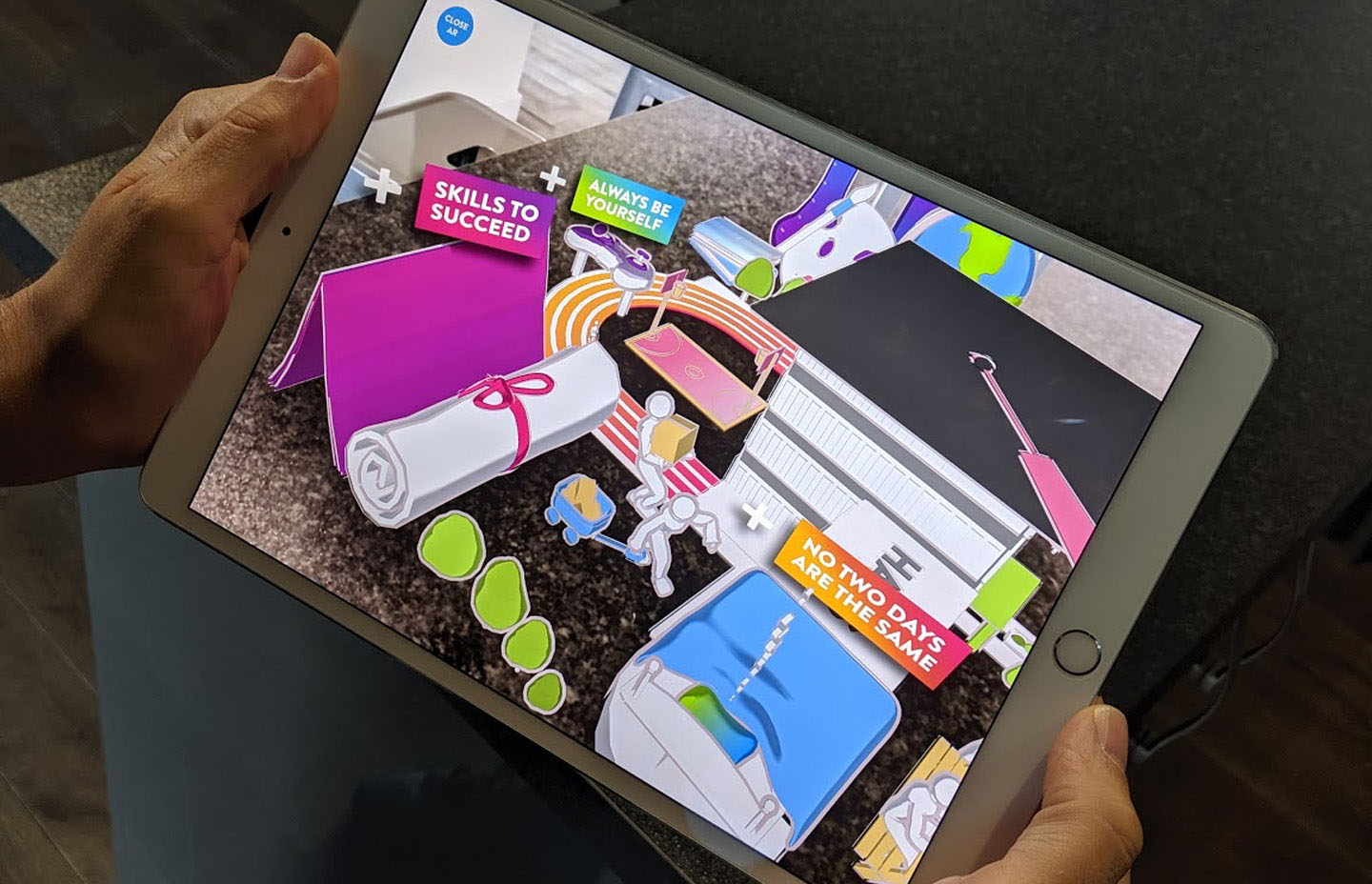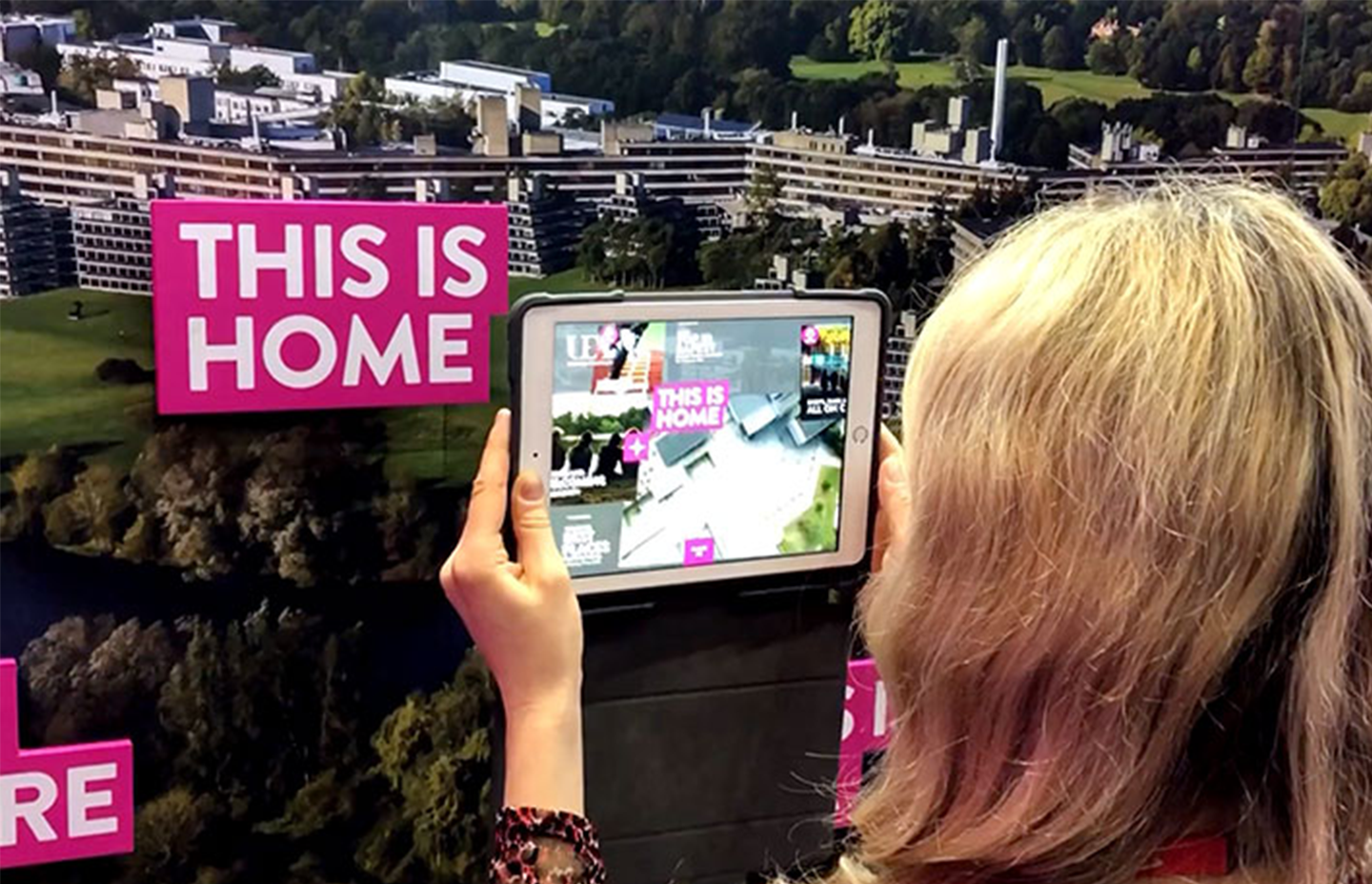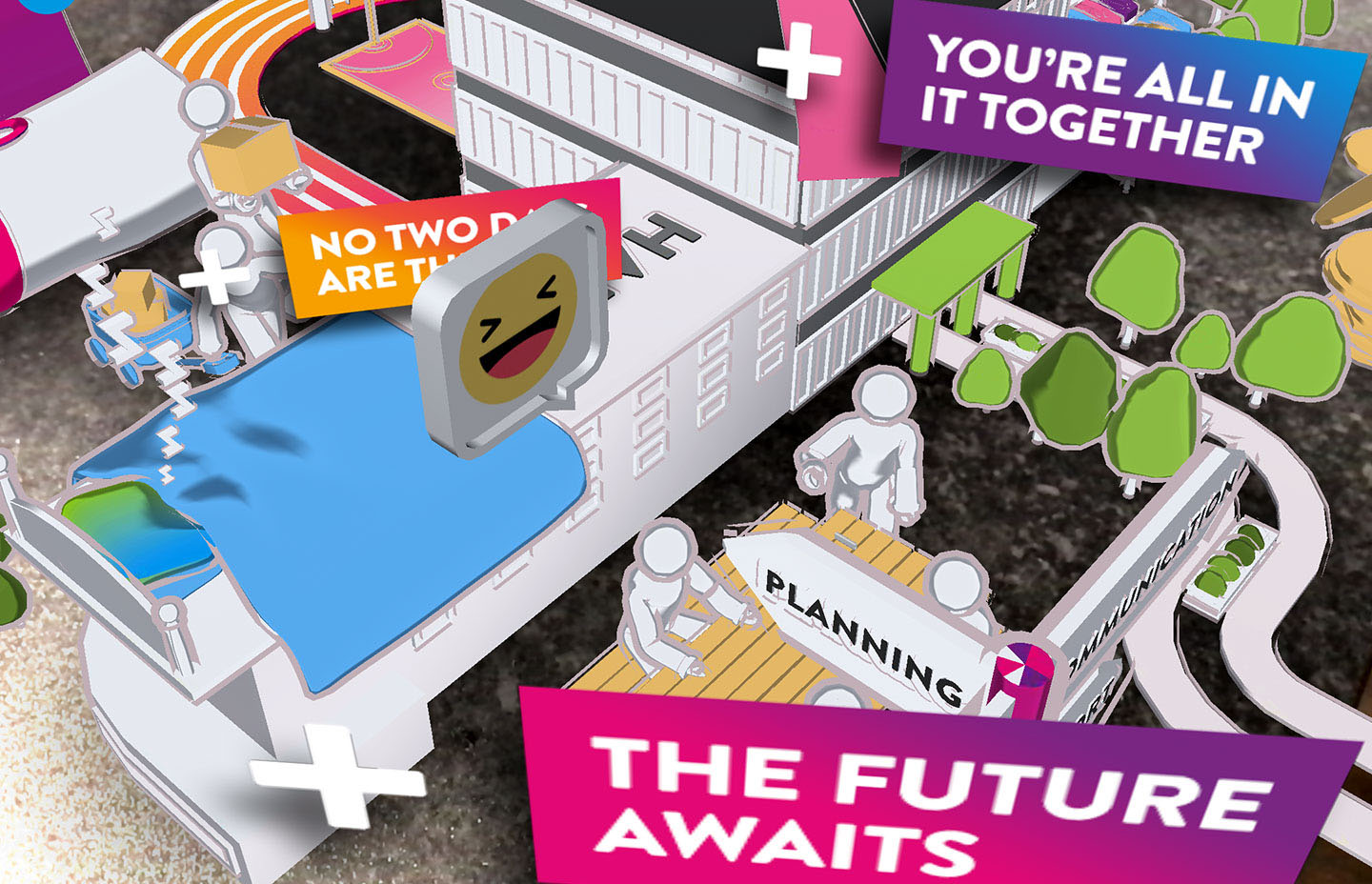 The Process
The iPad app uses markerless AR to trigger a stylised and subtly animated 3D model that represents different aspects of university – from studying to finance to the first steps towards independence. Different hotspots are positioned around the model, which users can swivel on screen or move the tablet around to explore further. Each hotspot triggers a range of different information about a topic, from the career opportunities you get with a degree, to your living options, to your study options – as well as practical advice about student finance and reassurance about friendships, hobbies and meeting like-minded people.
Within each hotspot, the information is presented in a range of ways to keep students interested and informed. We used a mix of 360 video, 2D video, images, GIFs and punchy stats and facts to grab attention, and backed them up with supportive copy that told a complete story. All in, the content offered nearly half an hour's worth of learning that was all delivered in an interactive and entertaining format – making it ideal for group activities at schools. Topped and tailed with multiple choice questions that will enable the Outreach team to benchmark the level of knowledge about HE within their students groups, the app was loaded onto pre-supplied iPads ready for use in schools – helping the team at UEA to reach out to more students, more easily.
Do you have a message you want to convey? A situation that needs simulating, or an audience that needs reaching? Whatever your challenge – we have the ideas, the experience, and the equipment to help.
What's your challenge?
Get in touch
Contact Us